OK, so of all the designers out there, I have to admit BCBG Max Azria is a favorite of mine. I don't avidly follow designers or anything, seeing as I usually can't afford much of anything they sell. But as it happens, I've found more than one awesome dress at the BCBG store (on sale, even!). The last time I went to Barrister's Ball it was in my Favorite Dress Ever (also the most expensive item of clothing I've ever bought) which is by Max Azria. I also found a fantastic cream-colored dress of his (I like to call it my Academy Awards Dress) at an outlet one time, which I sadly have not had occasion to wear yet (but I WILL. Somehow I WILL. Maybe if Kelly and I ever go to the opera again. Or if I win an Academy Award). And, of course, let's not forget that until it was discontinued they carried my favorite-EVER perfume, BCBG Girls Metro. (SO SAD it is gone.)

So seeing as BCBG is pretty much a favorite of mine for fancy things, I was disturbed to get this image in my Gmail today: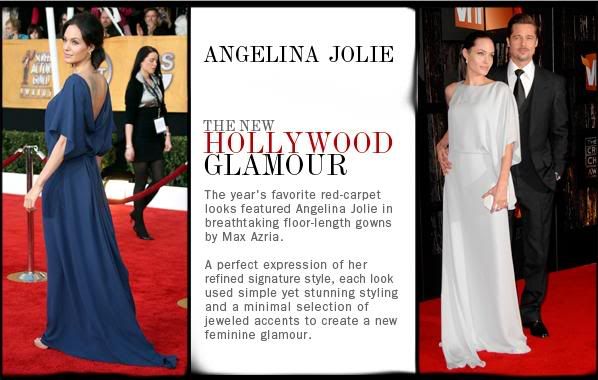 Along with links to models on the runway wearing dresses like those she wore.

Now, don't get me wrong - I like Angelina Jolie, and even think her style is (often) quite nice on her (although occasionally...hrm). And despite the fact that even the Max Azria email shows that she wore the blue dress backwards, she can usually carry odd drapey styles off with class. BUT. The reason I'm feeling iffy about the fact that a lot of the current line looks to be inspired by Jolie's style is that I am no Angelina Jolie, nor is most of the known world. I *don't* usually prefer to waltz around looking like I bought a gigantic brown silk poncho, stapled it together somehow so as to create somewhat modest armholes, and decided it was great for the red carpet.

I'm not saying Max Azria's lost his touch or anything (although whatever this gal's wearing on her ankles scares me mightily, just that most of us, and I'm including actresses here, don't generally pick dresses that look like they have no tailoring at all and are, possibly, made out of one rectangle of cloth and a staple or two. And that's what a good portion of his current line appears to be (the portion that is not suffering from completely boring crew neck syndrome.

I do realize that I am, at present, not in any position to need to buy one of Max Azria's dresses. But I like fashion, and I know how actresses are about fashion and following trends, and I'm beginning to have a sinking feeling that late 2009 is going to be The Season of Jolie or something, where all we see are actresses swishing around in 200 yards of silk gathered together by a piece of crystal-studded twine.

I do have some hope: this is actually kind of cute, if you cut off the weird long arm, and this, despite its draping, doesn't really bother me, and I actually kind of love this dress and this dress a lot (very elegant!). I'm just...concerned. I guess I'll keep my fingers crossed.