[Confused? Start at the beginning with
Chapter 1
]
...
Previously
, on Deadpool: Weapon: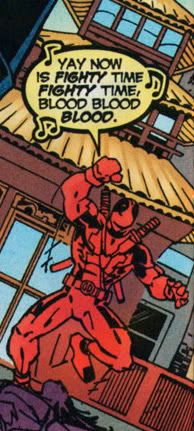 [Hey, my little chiquitas, where have y'all
been
? I've been sharpening my knives for
days
over here, waiting for you to show up so I could tell you what went down in Chapter 4. I was getting so tired of humming the
Aquaman
theme song, I almost fell asleep! Anyway, now that you're
finally
here...Chapter 4 went something like
this
:
[
Ed. note:
Um. We have no idea where he got the hand puppets from, but I guess we'll let him go with it...]
So the Deadpool Puppet called the Deathstroke Puppet and said:
'What up, DS, it's 'Pool. Come meet me on the corner so I can slice'n'dice you.'
And the Deathstroke Puppet cowered like a baby sissy brat.
[Wow, if I curl my fist like
this
, the 'Stroke Puppet looks
really
scared.]
And the 'Pool Puppet said: 'Man, what a wimp. Look! Lady! Knife! Throat! Grow a pair and rescue her, wuss!'
And the 'Stroke Puppet went: 'Wah! ...OK.'
So now he's on his way.
Oh, I almost forgot...
[
Ed. note:
And we REALLY don't know why he owns a Starfire puppet, but it's probably best not to enquire.]
...the 'Pool Puppet called up the Pretty Pretty Princess Puppet, and asked her out for a night on the town, and she said...'YES!'
...
[What? What do you mean they can go back and read the last chapter? Well why am I even
doing
this, then? Oh. Oh, I see. Geez, you people are so
lazy
.]
...
Um. OK. So maybe the Pretty Pretty Princess Puppet hung up on the 'Pool Puppet instead. Whatever. Close enough. That's not really
important
, anyway. What's important is, the 'Stroke is on his way, so we're finally about to have...
a fight scene
! W00t! This is gonna be
so great
, y'all. My knives are sharp [really,
really
sharp], my doorknobs are locked and loaded, and my grenades, ammo, lock picks, shurikens, sais, air horn, katanas, Magic 8-Balls [good to have several in case one starts leaking], kamas, teleporter, tonfa, flamethrower, bag of flour, tessen, Push Pops, Wolvie-kagi, emei needles, Tomogatchi, meteor hammers, deus ex machina, goedendag, VitaminWater, fire ants, and Vaseline are close at hand.
Like I said:
W00T!
]
Chapter 5:
(
Collapse
)
...
To be continued in a highly populated area (oh no!) in
Chapter 6
...
...
*Chapter title from
Weapon
, by Matthew Good.
...
(BTW, in case anyone's wondering when the next time we'll see 'Pool in the
real
comics is, he'll be making an appearance in
Marvel Comics Presents
#10, which comes out June 25, 2008. Info courtesy of
The Deadpool Bugle
.)
...
ETA:
New
I'm a Marvel, I'm a DC Parody
"Did you just compare yourself to Wal-Mart?" HEE.